Art at the Heart supports the RUH Bath with an award winning art and design programme that stimulates healing and well-being, and creates an uplifting environment for patients, visitors and staff. In January 2016 we embarked on a project to commemorate the 100th anniversary of the founding of the Bath War Hospital. As part of this project we have established this website to record the story of the Bath War Hospital, and we hope that this will provide a valuable resource for anyone who wishes to learn more about the City of Bath during WW1, or about day to day life in a WW1 hospital. The site holds images, stories and information collected from various sources, and will be updated as we continue to collect new stories and memorabilia.
BATH WAR HOSPITAL: Acts of Kindness
This exhibition was funded by the Heritage Lottery: 1st World War 'Then and Now' Fund (HLF) and reflects upon the day to day life at the Bath War Hospital.  It explores the concept of compassionate community support, and the importance of the 'small acts of kindness' that brought comfort to the recovering soldiers.
In addition to the main grant from the HLF, the Theatre Royal Bath Creative Fund and a number of supporting organisations such as Bath Boules and the Bath Decorative and Fine Arts Society (BDFAS) generously provided AATH with funding for Artist in Residence Edwina Bridgeman to deliver a unique intergenerational project where 4 large mixed media tapestries were created to feature in the exhibition.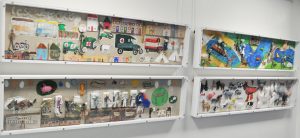 You can now see this exhibition in its permanent home on the RUH 1st Floor (Zone B).
Should you wish to learn more about this project we have made a short film that can
be viewed here.